Influx of visitors to Sumela Monastery | N-life
One of Turkey's main religious tourist routes SUMELA MonasteryThe summer season is busy.
The Sumela Monastery, which was built by carving rock at an altitude of 300 meters in the Altındere Valley of Karadağ in the Maçka district of Trabzon, ranks first among the frequent destinations of culture and nature lovers.
The Sumela Monastery, which offers nature, history and culture together, was closed to visitors in September 2015 due to the risk of rockfall.
In the restoration started in February 2016 by the Ministry of Culture and Tourism, the first phase of landscaping, geological and geotechnical investigation and rock reinforcement has been completed, and the section up to the courtyard was completed in May 2019, with the completion of the main part of the works of the second phase, 65 percent of the monastery was completed by July 28, 2020. In 2020, the third phase, including the courtyard, was opened to visitors on July 1, 2021.
To exclude the risk of falling stones, the monastery was closed on November 1, 2021 and restored. Dangerous rocks were secured with steel cables and rock-solid barriers were built.
With the completion of the works, the monastery, which opened its doors to its visitors from May 1, 2022, once again became one of the main attraction areas of Trabzon.
Although the Sumela Monastery was closed for certain periods after the restoration, it received 597 thousand 742 visitors between July 1, 2021 and June 29, 2023.
"NUMBER OF VISITORS INCREASES EVERY YEAR"
Trabzon Director of Culture and Tourism Tamer Erdoğan said the restoration work of the world-famous Sümela Monastery has been completed with the close and devoted follow-up of Culture and Tourism Minister Mehmet Nuri Ersoy.
Erdoğan stated that the monastery received 153 thousand 994 tourists in 2021 when it opened to visitors and said 339 thousand 457 people visited it in 2022.
Erdoğan stated that the monastery received 104 thousand 291 visitors in the period of 6 months of this year, so that the number of domestic and foreign tourists reached 597 thousand 742 between July 1, 2021 and June 29, 2023.
Erdogan drew attention to the monastery's history and said, "Many domestic and foreign tourists visit Sumela Monastery, a UNESCO Temporary Heritage Site, and the number of visitors is increasing every year."
Erdoğan explained that the Eid al-Adha holiday coincides with the tourist season and many people include Trabzon in their vacation schedule. monastery are completed and the main rock church in the monastery is on the outside. Conservation and documentation work on the frescoes continues," he said.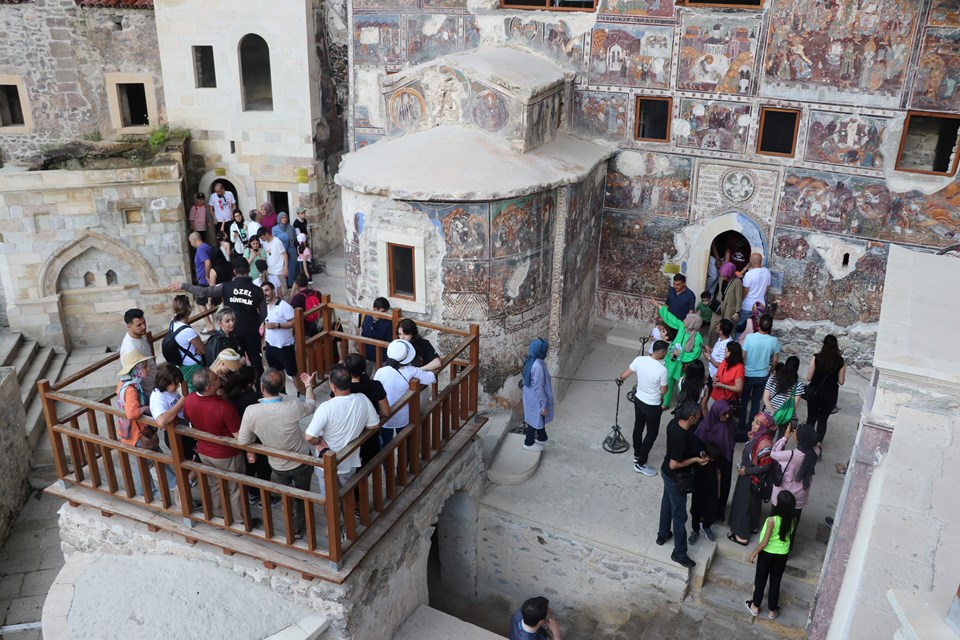 "FOLLOWING THE LIGHTING WE FIND AN INCREASE OF INTEREST IN THE SUMELA MONASTERY"
Erdoğan underlined that the Altındere Valley National Park, where the monastery is located, is a natural wonder, saying:
"With its rich flora and fauna, the National Park, which has the most beautiful natural landscape you can see in the Eastern Black Sea region, covers an area of ​​4,800 hectares. The interior, exterior, aqueducts and ambient lighting of the Sümela Monastery created a sparkling image. The visual beauty that emerged was also highly appreciated by locals and tourists. After the illumination, we saw an increasing interest in Sümela Monastery."
Emphasizing that the monastery also caught the attention of photographers, Erdoğan continued:
"The local population and traders are also satisfied with the tourist activity that has arisen. We expect a 30 percent increase in the number of tourists in the summer season of 2023, after all the efforts and promotions of Sumela Monastery in terms of tourism. To ensure that our presence is placed on the permanent list and the number of visitors increases day by day."
Download the News application, stay informed of developments