Will it be banned? TikTok CEO Testifies at US Congress – Breaking News
His relationship with the CCP was questioned
Lawmakers claimed ByteDance had ties to the CCP and asked Chew if they had removed content from TikTok at the request of the CCP. "We do not develop or remove content at the request of the Chinese government," Chew said. said.
Chew said he has had no conversations with Chinese government officials, and when asked by lawmakers about ByteDance's top executives' ties to the CCP, "(Business) I cannot confirm this statement as I do not know the political affiliation of the people whom I interviewed." he answered.
Chew noted that the Chinese government also saw no evidence that Americans had access to data and emphasized that the CCP was not asking them for such a thing. Chew said that when answering questions from lawmakers about the storage of location information in the US, they did not collect location information data.
Chew, on the other hand, stated that they work with Chinese engineers, like many US companies, and said they plan to store all US data under the US company's "Texas Project" and under surveillance of American personnel. But lawmakers argued that this would not remove threats to national security.
Chew confirmed that they have shared data with companies they have been associated with in the past and reported that such access will disappear after the Texas Project. Chew stated that they spent $1.5 billion on the project in question.
Chew, who denied claims by lawmakers that TikTok gave Americans' data to China, said Americans' data was stored on Oracle servers and spied on by US personnel.
"Did ByteDance Spy on US Citizens?" on a legislator's access to ByteDance's TikTok data. Chew asked, "I don't think it's right to describe it as 'espionage'." gave the answer.
REMEMBERED THE REGISTERS OF AMERICAN BUSINESSES
Lawmakers also questioned Chew about his salary and additional income. Chew would not give clear information about his salary, but noted that his main source of income is his job at TikTok and the extra payments they receive from ByteDance, and that he does not come from anywhere else.
"Are you afraid of the communist government of China?" Chew replied, "No." gave the answer.
Regarding the FBI director's view that TikTok is controlled by the Chinese government, Chew said, "I think a lot of the risks point to hypothetical and theoretical risks. I haven't seen any evidence on this. I look forward to discussions where we can talk about the evidence." made his decision.
Chew, on the other hand, indicated that he believes steps should be taken on privacy, claimed that US companies do not have a good history in this area and gave an example of "Cambridge Analytica", which was accused of using the data collected without permission from the accounts of millions of Facebook users.
"SOCIAL MEDIA APPLICATIONS MUST NOT BE ON GOVERNMENT DEVICES"
When asked about a lawmaker about removing the TikTok app from government devices, Chew replied, "Honestly, I think government devices shouldn't have social media apps, but that shouldn't be aimed at us." he answered.
On the other hand, one of the lawmakers asked, "Why don't you let your 8-year-old use TikTok?" Chew replied, "My children live in Singapore. There is no application for 'under 13 years of experience' in Singapore." replied.
Chew claimed that the content on TikTok is "entertaining and informative," implying that some of the issues are related to internal US issues. When asked by lawmakers about drug trafficking on TikTok, Chew argued that his country Singapore has very strict drug bans, with almost no illegal drug content on TikTok.
THE "DO NOT BAN TICTOK" ACTION FOR THE CONGRESS BUILDING
TikTok users in the country called for the platform not to be banned in the context of freedom of expression.
A group of TikTok users and lawmakers gathered in front of the congressional building in the capital Washington.
New York City Representative Jamaal Bowman, representing New York in the House of Representatives, said in a statement here that 150 million Americans use TikTok and as many as 5 million small businesses sell their products and services through the app.
Bowman, claiming that TikTok is not the only platform posing a problem on social media, touched on Facebook allegations that Russia interfered in the 2016 US presidential election.
Noting that racism and xenophobia should not be perpetrated against China, Bowman said, "From the Congressional raid on January 6 to the genocide in Myanmar, US social media companies have been used to facilitate evil in a serious way." said.
Bowman argued that former President Donald Trump "used Twitter to provoke the Congressional raid on January 6."
Member of Parliament Marc Pocan also pointed to freedom of expression and said that it is not right to focus only on TikTok when concerned about data.
TikTok users also spoke about the benefits of the platform and argued that it should not be banned.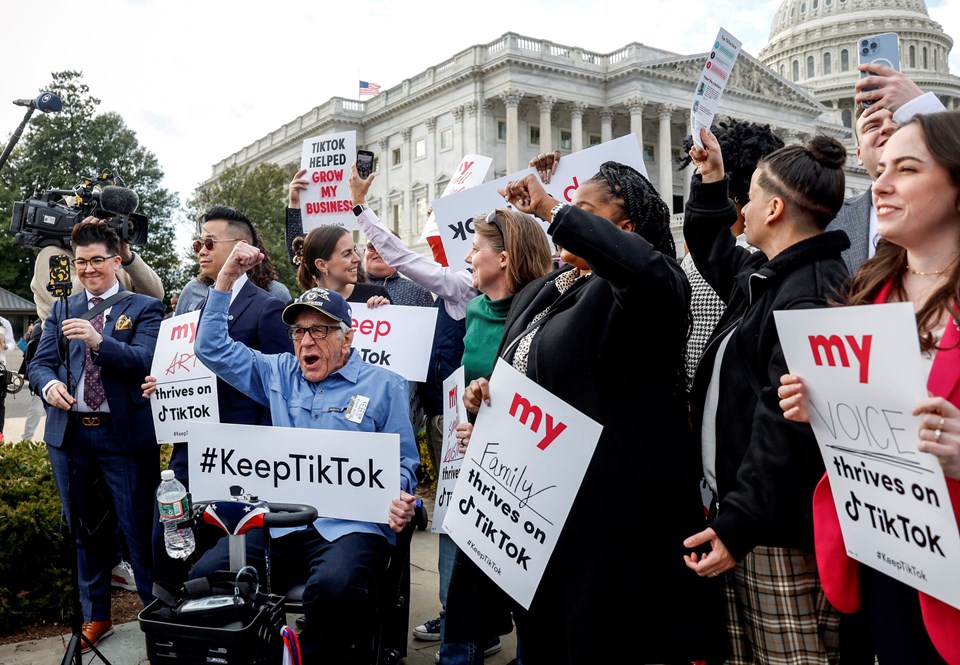 TikTok users gathered in front of the congressional building in the capital Washington and called for the platform not to be banned in the context of freedom of expression.
THE US GRANTED 30 DAYS TO IMPLEMENT THE BAN
In the US, 30 days were given on February 28 for the implementation of the TikTok ban on all phones owned by the federal government.
Many government agencies, including the White House, Department of Defense, Department of Homeland Security, and State Department, had banned TikTok without waiting for a vote in Congress in December 2022.
The U.S. Senate unanimously passed the bill on Dec. 15, 2022, which would ban federal government officials from downloading TikTok to state-owned devices due to "national security concerns."
On December 28, 2022, the US House of Representatives banned the download and use of the TikTok application on official devices used by its members and associates.
Many states have passed similar laws banning the use of TikTok, including Maryland, Nebraska, South Carolina, South Dakota, Indiana, and Texas.